Hello bookish friends,
Sorry that I am late with the blog post, The Christmas period took up all my time and I just didn't have time to sit down and write my updates.
(Goodreads) blurb: 
Lara Jean didn't expect to really fall for Peter.
They had just been pretending. Except suddenly they weren't. Now Lara Jean is more confused than ever.
Then another boy from her past returns to her life, and Lara Jean's feelings for him return too.
Can a girl be in love with two boys at the same time?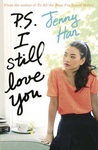 P.S. I Still Love You by Jenny Han
My rating: 4 of 5 stars
This book was good, it was certainly a nice continuation of the series. However, I feel like it was all over very quickly. This would have been a nice ending to the first book. I didn't feel like this added anything significant to this series. Although I will read the next in the series as I really enjoy the ease of this series. I also am curious to see how the next book will turn out.
I am also interested to see how the new Netflix film will turn out as some of the second book has already been shown in the first film.
As always, happy reading xx
Korie